Materials & Care
Learn about our sustainable jewellery.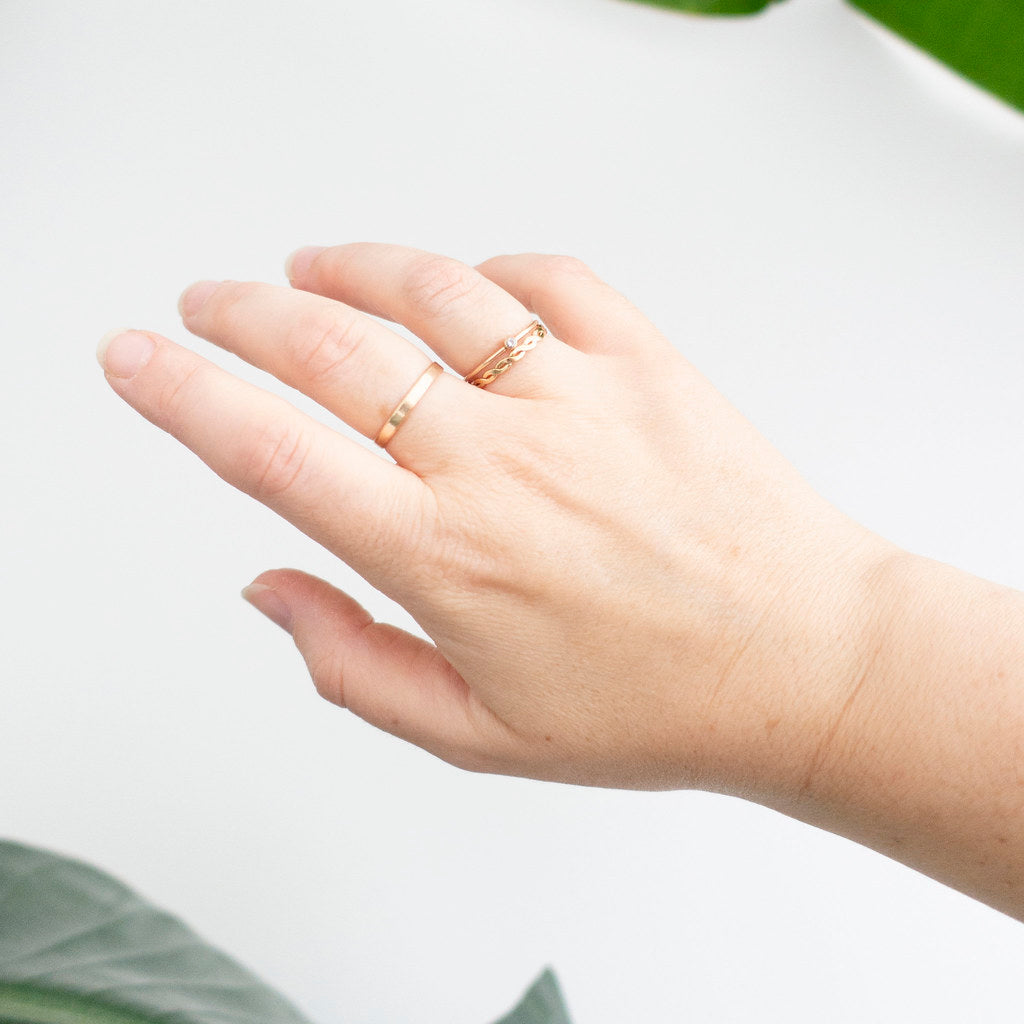 Made in the UK
Our suppliers are Fairtrade licensed and producers of recycled metals. We recycle our metal scraps and resell returns so nothing goes to waste.
Responsibly-Sourced Materials
Recycled Metals

Vermeil. We use vermeil for many of our designs. Compared to solid gold, it's a more affordable option—without compromising on quality. Vermeil is solid gold over a base layer of sterling silver. This makes the jewellery hard wearing and tarnish resistant.

Gold-fill. All our chains and findings are 14k gold fill. Made from a thick layer of solid gold bonded over a base layer. Neither gold fill nor vermeil will flake, wear off, or discolour.

Sterling Silver. We use genuine 925 sterling silver for our silver jewellery designs. 925 sterling silver is of 92.5% pure silver, alloyed with harder metals to improve durability.

Sustainable Stones

Simulated Gems. We never use mined diamonds. Instead we use simulated gems created with a high level of clarity. They replicate mined diamonds both in style and quality but at a much more affordable price.

Natural Gemstones. We use responsibly-sourced stones for our range of gemstone and raw crystal jewellery. Each stone is hand-selected by our suppliers who have full traceability direct to the source.
Jewellery Suitable for Sensitive Skin
Hypoallergenic

Hypoallergenic jeweller means that there is minimal risk of causing an allergic reaction. We only ever use gold and sterling silver, meaning our jewellery is ideal for sensitive skin.

Nickel-Free

None of our jewellery contains nickel. So you can safely wear our jewellery knowing it's nickel-free.

Vegan-Friendly

All our jewellery is vegan-friendly. We never use pearls, leather, silk, beeswax, or any other materials derived from animals.
Jewellery Care
What can damage or dull my jewellery?

Knowing what causes accidental damage can help prevent it. These are the most common causes:

Water damage from exposure to water or moisture
Sun and heat damage from exposure to bright sunlight
Exposure to perfume, skincare, or cleaning products
Physical damage from tangles and snagging
Poor cleaning techniques
Improper storage
Age

How do I prevent jewellery damage?

To help prevent accidental damage to your jewellery, we recommend you:

Do not shower or bathe while wearing jewellery
Remove rings when cleaning or washing your hands
Avoid jewellery coming into contact with cosmetic products
Put jewellery on after dressing to avoid tangles
Remove jewellery before undressing to prevent snags
Wear your jewellery regularly to prevent natural tarnishing
Clean your jewellery to maintain its shine

How should I care for my jewellery during wear?

Damage to jewellery can happen without you being aware of it. Exposure to everyday products may tarnish or corrode the metal. While snagging jewellery on clothing is a major cause of wear and tear.

To protect your jewellery, it's best to put it on after getting dressed and before undressing. Be careful when applying perfume and skincare. Remove jewellery when using cleaning products. Prevent tangles by using a necklace detangler, and clean jewellery often.
How should I store my jewellery?

Always store your jewellery in a dark, cool, dry place. Away from sunlight and out of humid environments. Make sure to fasten clasps to prevent chains tangling and pendants rubbing together. We recommend using a jewellery storage box for peace of mind.
How should I clean my jewellery?

Tarnishing on sterling silver is natural. Proper storage and regular cleaning will prevent this from happening. Typically vermeil and gold-fill won't tarnish. But in rare instances, it can. Cleaning it will maintain its shine and protect against damage.
Jewellery Hallmarking

Many of our minimal jewellery pieces fall below the weight threshold for hallmarking, 1 gram for gold and 7.78 grams for silver. So you won't always find a hallmark except for on the clasp identifying each piece as 14K gold-fill or 925 sterling silver.

We have our jewellery independently tested for authenticity and durability by third party companies to ensure you always have the guarantee of genuine quality.

Our Guarantee

Our jewellery comes with a 6-month guarantee starting from the date of sale. If your jewellery has a manufacturing defect, we will repair or replace your item for free. This guarantee does not cover general wear and tear or accidental damage.

It's important to follow our jewellery care guide to keep your jewellery safe. If you break your jewellery we can repair it for a small fee. To request a repair please contact us.



Contact Us